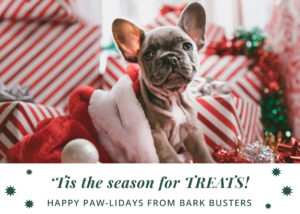 As we gear up for the holidays and get tied up in the throes of shopping, Bark Busters Fairfield County wants to make sure you and your pet have dog safe holidays. For instance, did you know that holly and mistletoe can be poisonous for your dog? That snow globes contain antifreeze which is toxic to your dog?
Here are some other tips to keep you and your beloved pet secure and happy this holiday season!
Food. Although many of us enjoy the beauty of poinsettias, they can make your dog vomit. Chocolate is another big no no. Do not give your dog any spicy or fatty foods, bread dough, caffeine or alcoholic beverages. Cooked bones can be extremely dangerous as they can splinter and cause damage to your dog's intestines. Instead, treat your dog to dog bones designed specifically for our canine friends.
Decorations. Lighted candles create a peaceful glow, but keep them away from your dog. One tail wag could send those candles flying and cause a fire or even burn your pet. Now may be a good time to change those batteries in your smoke alarm! If you have a Christmas tree, hang the non-breakable ornaments near the bottom, so your dog doesn't break them and step in glass. And tinsel may be pretty, but can be deadly for your dog. And if you have a real Christmas tree, do not let your dog drink the tree water, because it may contain preservative chemicals that can cause nausea or vomiting.
Guests. Many dogs will get over-excited with so much company and guests arriving. Try and tucker him out with a long walk beforehand. Don't let your pet get away with bad behaviors just because it is the holidays; instead, take this as a learning opportunity to intensify his good behaviors. And remember that pets who are stressed generally pant more, so keep a water bowl handy.
Cold. Considering where we live, it can be bitter cold outside. Limit your dog's exposure to the elements and be careful of slippery conditions like ice and snow.
Puppies for Christmas. Despite the fact that puppies are adorable and your kids may be begging for one for Christmas, do not give in! Puppies should never be a surprise gift, because owning one requites a huge time and financial commitment. The holidays are rushed and chaotic, and most people do not have time to train a dog. Too many dogs end up in shelters after the holidays. Unfortunately like a child who is adopted, you shouldn't give them back.
If you need any help so you and your family can have dog safe holidays, contact Michael Konstantaras. I'll be happy to help you have a well behaved dog!